In honour of his 88th birthday, I present two BrickHeadz versions of renowned film composer John Williams.
John Williams (Composer)
This 123 part model presents John Williams, the composer, sporting his customary turtleneck, complete with pencil, score sheet, and his five Academy Awards. Special thanks go to Christoper Kueß for helping me create a score sheet sticker of the theme from Close Encounters of the Third Kind, plus an alternate sticker of Williams's trademark "boom-tzzz" percussion motif.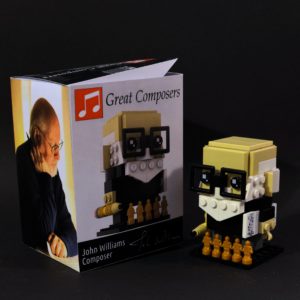 John Williams (Conductor)
This alternate 124 part model shows John Williams, the conductor, with tuxedo and baton.
Note that the white wand piece used as the baton is so far only available in set 75965. You may have to substitute it for another piece if the original is too hard to find.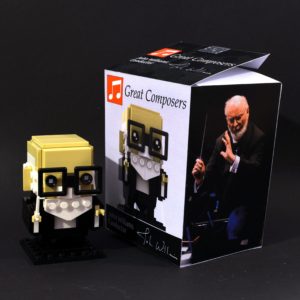 Help
Don't know how to get the parts necessary to build these sets? Find help here.